Мы рады представить модельный ряд Nimbus! Специально для этой линейки разработаны современная форма корпуса со светодиодной подсветкой и эргономичный игровой джойстик.Перед вами видеоприставка, в которой соединена возможность играть в любимые игры 8-бит Денди, 16-bit Sega, аркадный игровой автомат и в предустановленные игры с легендарной Neo-Geo! Но можно не только играть, но и смотреть видео, фотографии, слушать музыку, и даже есть возможность просматривать файлы в формате pdf.
Комплектация:
1. Игровая консоль – 1 шт.
2. Джойстики – 2 шт.
3. HDMI-кабель – 1 шт.
4. Инструкция по эксплуатации – 1 шт.
Специально для Nimbus Smart 740 игр разработана новая схемотехника материнской платы, блок питания встроен внутрь корпуса.
Тип стационарная. Разрешение 320*240. Встроенные игры 740. Встроенная память 16 GB. Процессор s200. Звук стерео. Питание встроенный блок питания 220В. Разъем для подключения джойстиков 2 шт. 9 pin. Поддержка карт памяти microSD и microSDHC. Подключение HDMI- или RCA-кабель. Цвет 512 цветов. Длина видео кабеля 1,3 м. Длина кабеля джойстика 1,5 м. Длина сетевого кабеля 1,4 м. Упаковка картонная коробка. Страна производства Россия. Размер коробки 28,4 х 20,4 х 5,1 см.
Специально для использования с NIMBUS SMART разработан новый игровой джойстик c полным функционалом. Цвет джойстика традиционно черный, кнопки действий и крестик серые, с плавным ходом, усиленная конструкция, кнопки START и MODE выполнены из прорезиненного материала. В качестве материала для корпуса использован ударопрочный пластик ABS.
Поверхность джойстика c противоскользящим напылением, обеспечивает надежную фиксацию в руках. Удобно держать! Комфортно играть!
Игровая видеоприставка подключается к телевизору через HDMI-кабель или 3RCA (тюльпаны). Разъём для microSD и microSDHC поддерживает карты памяти объёмом до 32GB.
Мультимедиа платформа игровой видеоприставки позволяет просматривать изображения, видеоролики, электронные книги, а также прослушивать музыку популярных форматов.
Корпус NIMBUS SMART дополнен современной светодиодной подсветкой кнопки RESET и двух полос на верхней части корпуса. Подсветка синего цвета, при загрузке и навигации по меню мигает, после выбора игры или файла горит ровным светом. Это очень удобно, всегда визуально можно определить, включена приставка или нет!
В сборник вошли 250 самых популярных игр с платформы Денди 8-бит. Захватывающие танковые сражения в Battle City, приключения итальянского водопроводчика Марио, динамичные Чип и Дейл, легендарные черепашки и боевые жабы, всевозможные вариации тетрисов, бродилки, стрелялки и многое-многое другое. В сборник вошли 420 самых известных игр с платформы SEGA 16-бит. Всё, о чем только могут мечтать поклонники видеоигр всех возрастов: серия захватывающих файтингов, многоуровневые приключения самых известных мультипликационных героев, стратегии, логика, спорт и захватывающие гонки. Эмулятор MAME (Multiple Arcade Machine Emulator) был разработан для воссоздания электронного оборудования аркадных автоматов в виде программного обеспечения, с целью сохранения истории игр и предотвращения исчезновения старых игр. В память игровой приставки встроены 30 игр формата MAME. Neo-Geo — игровая система, созданная японской компанией SNK в 1989 году. Больше всего она была известна как система для игровых автоматов, а также выпускалась как отдельная игровая приставка. Игры для Neo-Geo отличаются высококачественными звуковым сопровождением и 2D-графикой. В память игровой приставки встроены 40 игр формата Neo-Geo.
Новый формат меню: теперь навигация стала интуитивно понятной, с подсказками на русском языке. Игровая часть меню состоит из разделов 8- и 16-битных игр, а также игр МАМЕ (АВТОМАТ), Neo-Geo (SNK) и МИКРО SD с доступом к карте памяти. В мультимедиа части размещены разделы КНИГИ, ФОТО, МУЗЫКА и ВИДЕО.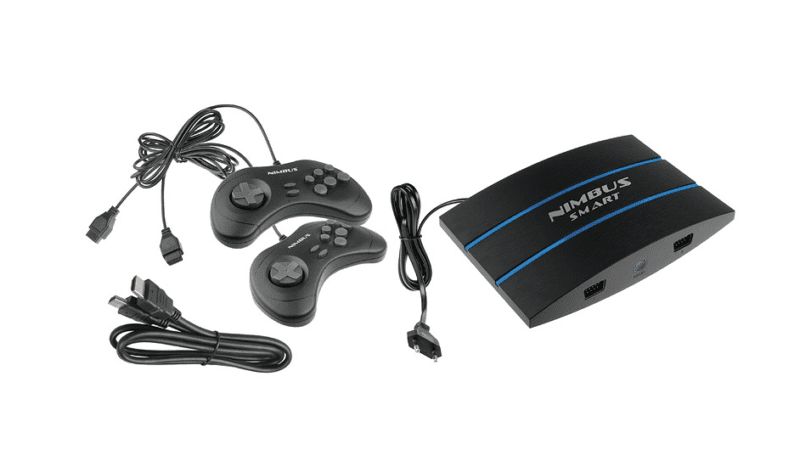 Список игр для Nimbus Smart 740
Neo-Geo:
3 Count Bout
Aggressors of Dark Kombat
Alpha Mission 2
Andro Dunos
Battle Flip Shot
Blue's Journey
Burning Fight
Crossed Swords
Cyber-Lip
Double Dragon
Eightman
Fatal Fury 2
Ghost Pilots
Ghostlop
Goal! Goal! Goal!
Gururin
Last Resort
League Bowling
Magical Drop 2
Magician Lord
Metal Slug
Metal Slug X
Mutation Nation
Neo Bomberman
Neo Drift Out
Neo Mr. Do
NeoGeo Cup 98
Nightmare in the Dark
Ninja Combat
Ninja Command
Overtop
Panic Bomber
Pleasure Goal
Puzzle Bobble 2
Puzzle De Pon!
Robo Army
Samurai Shodown
Sengoku 2
Super Dodge Ball
The Last Blade
MAME (CAPCOM)
1944
Alien vs. Predator
Armored Warriors
Cadillacs and Dinosaurs
Carrier Air Wing
Dynasty Wars
Eco Fighters
Final Fight
Forgotten Worlds
Ghouls'n Ghost
Giga Wing
Knights of the Round
Magic Sword
Mega Man
Mega Twins
Mighty! Pang
Nemo
Pnickies
Progear
Puzz Loop 2
Street Fighter 2
Street Fighter Zero
Strider
Super Street Fighter 2
The King of Dragons
The Punisher
Three Wonders
U.N. Squadron
Warriors of Fate
Willow
Dendy
1942
3 Eyes Boy
3D Block
720 Degrees
75 Bingo
Abadox
Addams Family
Adventure Island 1
Adventure Island 2
Adventure Island 3
Adventure Island 4
Adventures of Bayou Billy
Adventures of Dino Riki
Adventures of Lolo
Adventures of Lolo 2
Adventures of Rad Gravity
Adventures of Rocky and Bullwinkle
Airwolf
Aladdin
Alien 3
All-Pro basketball
Antarctic Adventure
Arkanoid
Arkista's Ring
Astro Fang
Astyanax
Atlantis no Nazo
Attack of the Killer Tomatoes
Babel no Tou
Back to the Future
Bad Dudes
Balda
Balloon Fight
Bananan Prince
Barbie
Bartman
Batman
Batman Returns
Battle City
Battleship
Battletoads
Battletoads Double Dragon
Bikkuri Nekketsu Shin Kiroku
Binary Land
Bird Fighter
Bird Week
Blaster Master
Blocks World
Blodia Land — Puzzle Quest
Blue Shadow
Bomb Sweeper
Bomberman
Bonk's Adventure
Boogerman
Bubble Bobble 3
Bucky O'Hare
Bugs Bunny Crazy Castle
Burger Time
Captain America
Captain Planet
Castlevania 2
Caveman Games
Chack and Pop
Chip and Dale
Chip and Dale 2
Circus Charlie
Clu Clu Land
Code Name — Viper
Contra
Contra Force
Cosmic Epsilon
Cowboy Kid
Crash and the Boy
Cross Fire
Cyberball
Darkman
Darkwing Duck
Dead Fox
Deblock
Defender 2
Devil World
Dig Dug
Double Dragon 3
Dr. Mario
Dragon Spirit
Dragon's Lair
Dream Master
Drop Zone
Duck
Dynamite Bowl
Elevator Action
Exerion
F1 Circus
Felix The Cat
Ferrari
Final Mission
Fire Dragon
Firehouse Rescue
Fire'n Ice
Flappy
Flinstones
Flintstones 2
Flipull
Friday the 13th
Front Line
G.I.Joe
Galaga
Galaxian
Geimos
Go! Benny!
Godzilla
Golf
Golgo 13
Gorby no Pipeline Daisakusen
Gradius
Gremlins 2
Guerrilla War
Gun Nac
Gyrodine
Gyruss
Heavy Barrel
Hello Kitty World
Home Alone 2
Hook
Hoops
Hot Blood March
Ice Climber
Ikari 3
Ikki
Image Fight
Isolated Warrior
Jackie Chan's
Joe and Mac
Journey to Silius
Kamen no Ninja — Hanamaru
Kero Kero Keropp
Kick Master
Kickle Cubicle
King's Knight
Kiwi Kraze
Kyuukyoku Tiger
Legend of Kage
Lode Runner
Lone Ranger
Low G Man
Lunar Pool
Mad Max
Magical Mathematics
Mappy
Mappy Land
Mario Bros
Mario is Missing!
Mendel Palace
Metro Cross
Mickey Mouse
Mickey's Adventures
Mickey's Safari
Mighty Bomb Jack
Mighty Final Fight
Millipede
Monster in My Pocket
Moon Crystal
Ms. Pac-Man
Nekketsu! Street Basket
Ninja Gaiden 2
Ninja Kun
Ninja Turtles
Ninja Turtles 2
Ninja Turtles 3
Ninja Turtles 4
Nintendo World Cup
Nuts & Milk
Othello
Pac-Man
Pac-Mania
Panic Restaurant
Pinball
Pipe Dream
Pong of Wars
Popeye
Power Blade
Power Blade 2
Punch-Out!!
Pyramid
Quarth
Rackets and Rivals
Rampart
Road Fighter
Robocop
Robocop 2
Rock 'n' Ball
Rockin Kats
Sea of Dreamland
Seicross
Shadow of the Ninja
Shatter Hand
Sky Destroyer
Soap Panic
Solomon's Key
Son Son
Spider Man
Spy Hunter
Star Wars
Super Aladdin
Super Dodge Ball
Super Donkey Kong 2
Super Mario Bros
Super Mario Bros 2
Super Mario Bros 3
Super Sprint
Super Spy Hunter
Super Xevious
Sword Master
Taito Basketball
Tale Spin
Tank 1990
Tecmo World Cup Soccer
Tennis
Terminator
Terminator 2
Tetrastar
Tetris
Tetris 2
Thunder and Lightning
Time Zone
Tiny Toon
Tiny Toon 2
Toki
Tom and Jerry
Tom and Jerry 3
Tom Sawyer
Toxic Crusaders
Track and Field
Trog
Trolls in Crazyland
Twin Eagle
Ugadayka
Vindicators
Volguard 3
Wacky Races
Warpman
Widget
Wolverine
Wrechking Crew
WWF King of the Ring
Xevious
Yo! Noid
Yoshi's Cookie
Young Indiana Jones
Zippy Race
16-bit
Abrams Tank
Addams Family 2
Addams Family Values
Aero Blaster
Aero the Acro-Bat
Aero the Acro-Bat 2
After Burner 2
Air Battle
Aladdin
Aladdin 2
Alien 3
Alien Soldier
Alien Storm
Andretti Racing
Animaniacs
Ariel Mermaid
Art Alive
Asterix and the Great Rescue
Asterix the Power
Attack Sub 688
Awesome Possum
B.O.B
Boxing Legends of the Ring
Ball Jecks
Ballz
Barbie Super Model
Barbie Vacation Adventure
Bare Knuckle
Bare Knuckle 2
Bare Knuckle 3
Bass Masters Classic
Batman
Batman and Robin
Batman Forever
Batman Returns
Batman Revenge of the Joker
Battle Mania
Battle Squadron
Battletech
Battletoads
Battletoads Double Dragon
Beauty and the Beast 2
Beavis and Butt-Head
Belle»s Quest
Bimini Run
Bio Hazard Battle
Blades of Vengeance 4
Blaster Master 2
Block Out
Bloodshot
Body Count
Bonanza Bros
Bonkers
Boogerman
Brutal
Bubba N Stix
Bubble and Squeak
Bubsy
Bubsy 2
Bug»s Life
Bugs Banny
Burning Force
Cadash
Caersas Palace
Caliber Fifty
California Games
Camping Adventure
Cannon Fodder
Captain America
Captain Lang
Captain Planet
Castle of Illusion
Castlevania
Chakan The Forever Man
Championship Bowling
Championship Pool
Chase HQ2
Chavez 2
Cheese Cat-Astrophe
Chessmaster
Chester Chectan 2
Clay Fighter
Cliffhanger
Clue
Columns 3
Doki Doki
Combat Cars
Comix Zone
Commandos
Contra Hard Corps
Cool Spot
Cosmic Spacehead
Crack Down
Crusader of Centy
Cross Fire
Cutthroat Island
Cyber-Cop
Cyborg Justice
Daffy Duck in Hollywood
Dark Castle
Davis Cup World Tour
Death Caliber
Decap Attack
Deer-Hunter
Demolition Man
Desert Demolition
Desert Strike
Dick Tracy
Dino Land
Dinosaurs for Hire
DJ Boy
Domino
Donald in Maui Mallard
Donkey Kong
Doom Troopers
Double Dragon
Double Dragon 2
Double Dragon 3
Dracula
Dragon Lee
Duke Nukem
Dune 2
Dynamite Headdy
Earnest Evans
Earthworm Jim
Earthworm Jim 2
Ecco Jr.
Ecco the Dolphin I
Ecco the Tides of Time
Eswat
Eternal Champions
Exodus
EX-Mutants
Ex-Ranza
F1 World Championship
F-15 Strike Eagle
F-22 Interceptor
Fantasia
Fantastic Dizzy
Ferrari
Fido Dido
Fifa 97
Fifa 98
Final Zone
Fire Shark
Flash Back
Flicky
Flink
Foreman For Real
Flintstones
Frankenstein
Gain Ground
Galaxy Force 2
Garfield
Gargoyles
Gaudtlet 4
Gemfire
General Chaos
Generations Lost
Ghost Busters
Ghouls'N Ghosts
Gley Lancer
Global Gladoators
Gods
Golden Axe 1
Golden Axe 2
Golden Axe 3
Goofy's Hysterical Tour
Granada
Green Dog
Gretzky»s Hockey
Grind Stormer
Gunstar Heroes
Haunting Starring Polterguy
Hercules 2
Herzog Zwei
Home Alone 2
Hook
Humans
Hurricanes
Immortal
Incredible Hulk
Indiana Jones
Insector X
International Superstar Soccer Deluxe
Iraq War 2003
Izzy's Quest for the Olympic Rings
It Game from Desert
Jewel Master
Joe and Mac
Judge Dredd
Junction
Jungle Book
Jungle Strike
Jurassic Park
Jurassic Park Rampage
Kawasaki
Klax
Krusty's Super Funhouse
Last Action Hero
Lawnmower Man
Legend of Galahad
Lemmings Triders 2
Lethal Enforcers
Lethal Enforcers 2
Lion King
Lion King 2
Lost Vikings
Lost World: Jurassic P.3
Lotus 2
Lotus Turbo Challenge
Magic Scool Bus
Magical Taruruuto-Kun
Marble Madness
Marko's Magic Football
Marsupilami
Master of Monster
Master of Weapon
Maximum Carnage
Mega Bomberman
Mega Swiv
Mega Trax
Mega Turrican
Mega-Lo-Mania
Megapanel
Mercs
Mickey Mania
Mickey's Ultimate Challenge
Micro Machines
Micro Machines 2
Micro Machines Military
Midnight Resistance
Mighty Max
Minnesota Fats
Monopoly
Moonwalker
Mortal Kombat
Mortal Kombat 2
Mortal Kombat 3
Mortal Kombat 3 Ultimate
Mortal Kombat 5
Mr Nutz
Ms. Pacman
Mulan
MUSHA
Mutant League Hockey
Mutant Leaque Football
NBA 97
NBA Jam
NHL 97
NHL 98
NHL All-Star Hockey 95
Nigel Mansell's
Nightmare Circus
Olimpic Gold
Olympic Summer Games 96
Operation Europe Rus
Ottifants
Out Runners
OutRun 2019
Pac-Attack
Pac-Man 2
Pac-Mania
Pagemaster
Panic on Funkotron
Paperboy 2
Phantom 2040
Pica-Pau
Pink Goes to Hollywood
Pinocchio
Pirates of Dark Water
Pitfall
Pocahontas
Populous 2
Power Monger
Power Rangers 2 Movie
Predator 2
Primal Rage
Prince of Persia
Prince of Persia 2
PRO-AM Championship
Psycho Pinball
Puggsy
Pulseman
Punisher
Puyo Puyo Tsu
Pyramid Magic
Pyramid Magic III
Quack Shot
Radical Rex
Raibow Islands
Raiden Trad
Rampart
Rastan Saga 2
Real Monsters
Ren and Stimpy's
Revolution-X
Richard Scarry's Busytown
Rise of the Robots
Risky Woods
Ristar
Road Blasters
Road Rash
Road Rash 2
Road Rash 3
RoboCop 3
Robocop vs Terminator
Rock n' Roll Racing
Rocket Knight Adventures
Rockman Mega World
Rockman X3
Rocky and Bullwinke
Rolling Thunder 2
Rolling Thunder 3
Rolo to the Rescue
Runark
S.S. Lucifer Man
Sagaia
Sampras Tennis
Samurai Spirits
Scooby Doo
Sea Quest
Second Samurai
Shadow Blaster
Shadow Dancer
Shadow of the Beast
Shadow Run
Shanghai 2
Shaq Fu
Shining Force
Shining Force 2
Shinobi 3   Master
Shove It!
Side Pocket
Simpsons Bart Mutants
Simpsons Barts Nightmare
Skeleton Krew
Skitchin
Slap Fight
Smash TV
Smurfs
Snake Rattle 'n' Roll
Snow Bros
Soldiers of Fortune
Sonic & Knuckles
Sonic Spinball
Sonic the Hedgehog
Sonic the Hedgehog 2
Sonic the Hedgehog 3
Sonic V-3D Blast
Space Harrier 2
Speedball 2
SpiderMan and the X-Men
Spiderman and Venom
SpiderMan Animated Series
SpiderMan vs KingPin    Rus
Splatterhouse 2
Splatterhouse 3
Spot Goes to Hollywood
Squirrel King
Stargate
Street Fighter 2
Street Racer
Sunset Riders
Super Battletank
Super Bubble Bobble
Super Hange On          Rus
Super Mario World
Super Monaco GP 2
Super Ping Pong
SuperMan 2
Sylvester and Tweety
Syndicate
Syndicate
Taz in Escape from Mars
Taz-Mania
Techno Clash
Tekken Special 3
Terminator 2
Theme Park
Thomas the Tank Engine
Thunder Force 2
Thunder Force 3
Tin Head
Tiny Toon Acme All-Stars
Tiny Toon Adventures
Tom and Jerry
Top Gear 2
Toxic Crusaders
True Lies
Turbo Out Run
Turtles Hyperstone Heist
Turtles Tournam Fighter
Twin Hawk
Universal Solder
Urban Strike
V.R.Troppers
Vector Man
Vector Man 2
Verytex
Virtual Bart
Wacky Worlds
Warlock
WarpSpeed
Were Back
Wimbledon Tennis
Winter Challenge
Wiz «n» Liz
Wolverine Adamantius
World Heroes
World of Illusion
Worms
Wrestle Mania
X-Men
X-Men 2
Yogi Bear's Cartoon Capers
Zero Kamikaze Squirrel
Zero Tolerance
Zombies
Zoom
Характеристики
Основные
Тип приставки

Стационарная
Бренд

Nimbus
Память и процессор
Объем встроенной памяти

без диска
Дополнительные
Гарантия

6 мес.
Конструкция

Стандартная
Цвет

Черный
Тип

Игровая приставка
Обзор
Модель
Sega Nimbus Smart HDMI + 740 игр